NJBA Issues
The New Jersey Broadcasters Association proudly takes a leading role in advocating for our members on issues critical to the ongoing success of broadcast radio and television.
We urge all eligible stations to join the association so we can speak with the full power of New Jersey's broadcast community behind us. Below you'll find a summary of several issues important to broadcasters in New Jersey and around the country.
---
Performance Tax
Some members of Congress, at the behest of the big record labels, have introduced a bill to impose a performance tax on local radio broadcasters. The American Music Fairness Act (AMFA) would impose a devastating new fee on local stations simply for airing music on the radio – music that, for 100 years, has provided free promotion to labels and artists helping them sell albums, concert tickets, and merchandise. A new performance fee could financially cripple local radio stations putting jobs at risk, reducing radio's ability to provide local content, stifle new artists trying to break into the recording business and harm the listening public who rely on local radio.
The New Jersey Broadcasters Association has worked steadfastly with many members of our Congressional Delegation to sign on to the Local Radio Freedom Act, a non-binding resolution which calls for Congress to "not impose any new performance fee, tax, royalty, or other charge relating to the public performance of sound recordings on a local radio station for broadcasting sound recordings over the air, or on any business for such public performance of sound recordings."

The NJBA would like to thank Rep. Andy Kim, Rep. Chris Smith, Rep. Josh Gottheimer, Rep. Tom Kean, Jr., Rep. Donald Payne, Jr., and Rep. Mikie Sherrill for co-sponsoring the LRFA in the 118th Congress and standing up for local radio!
Future of AM/FM Radio in Automobiles
For more than 100 years New Jerseyans have relied on FREE over-the-air radio for news, weather, critical emergency information, music, sports, and entertainment. - and for much of that time, they've been able to do so reliably in their automobiles. As Electric Vehicles (EVs) increase in popularity, an alarming trend has emerged where car manufaturers are taking reduced steps to protect radio reception, particularly on the AM dial from interference from the cars electric components. Some automakers are even removing AM capabilities entirely!
The reality is that more than 80% of Americans 12 years and older listen to broadcast radio each month. While consumers have more options than ever when it comes to audio consumption, radio is still tops. Not only do Americans want radio in a place of importance in their cars for music and entertainment, radio becomes critical in times of emergency. Take super storm Sandy, where large swaths of the state were without power for days or even weeks. No power and no internet means RADIO is the lifeline residents have to get critical public safety information.
The New Jersey Broadcasters Association urges automakers to continue to support AM/FM radio by passing the "AM for Every Vehicle Act" (H.R. 3413 and S.1669), which would have the Dept. of Transportation create a rule that maintains AM radio in automobiles. This legislation would ensure that emergency alerting and critical public safety messages reach listeners, as well as continue AM's 100+ year history of providing music, news, and entertainment for millions of Americans.
Leveling the Playing Field Against "Big Tech"
Large tech giants like Google and Facebook can gatekeep content online, exerting incredible power over what news New Jerseyans can see online.
Stations rely heavily on ad revenue to produce local news and "big tech" exerts enormous influence on what gets monetized online and how much revenue (if any) news publishers see. Additionally, algorithms can favor certain content that steers listeners and viewers towards controversial content over the high-quality journalism that broadcasters deliver every day.
We ask that members of Congress support the Journalism Competition and Preservation Act (JCPA) which allows for temporary joint negotiations between broadcasters and tech giants. Broadcaster don't seek government-mandated payments from big tech, but to simply speak together to negotiate with dominant online poatforms regarding the terms and conditions by which their content is accessed.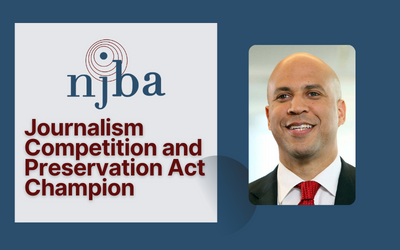 The NJBA would like to thank Senator Cory Booker for co-sponsoring the JCPA in the 117th Congress!
Promoting Diversity in Ownership
From 1978 to 1995 the diversity tax certificate helped power a 550% increase in diverse media ownership in the United States. Broadcasters fully support initiatives to improve diversity in media and to create opportunities for women, people of color, and other underrepresented communities. Therefore we ask the Congress reinstate the diversity tax certificate program, which takes the form of the Expanding Broadcast Ownership Opportunities Act (House) and the Broadcast VOICES Act (Senate).
This legislation would again incentivize broadcast owners to sell their majority stake to those underrepresented members of our population.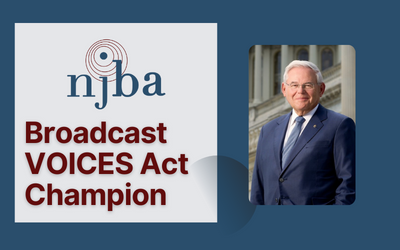 The NJBA thanks Senator Bob Menendez for his leadership on this issue, having introduced the Broadcast VOICES Act in the Senate in the 117th Congress!
Illegal Pirate Radio Operators
The Federal Communications Commission (FCC), was established in 1927 (then called the Federal Radio Commission) in order to give the Federal government more oversight over licensing amd mitigating radio signal interference. Nearly 100 years later, the FCC has added many additional duties but protecting legal and licensed radio stations from signal inteference is still one of their duties.

Unlicencsed and illegal "pirate" radio operators are continuosly operating in New Jersey posing a threat to public safety and intefering with the signals an business operations of legally operating and federally licensed stations within the state. These pirate stations cause inteference to New Jersey radio stations, limiting their broadcast signal, and therefor their ability to reach sections of their audience and decreasing the return for advertisers or underwriters.
Illegal pirate stations often operate without any regard for public safety - putting out too strong of a signal in and around their transmitter and not passing along Emergency Alert System activations that warn the public of an imminent threat. Pirate operators have also been shown to interfere with aviation communication systems when operating near an airport.
Congress should provide funding for the FCC in order for them to conduct the critical enforcement measures needed against illegal "pirate" operators as mandated in the RAY BAUM'S Act of 2019. The FCC should do everything in its power to protect the licensed broadcasters who continually act in the public interest, participate as a critical cog in the Emergency Alert System, monitor their station and signal for spurious emissions, and pay taxes as a legal business in New Jersey.